Blue Ribbon Dive Resort is in Small Laguna Beach, a little over a minute's walk from the crowded Sabang beach. This is a far more pristine place whose main attraction is peace and tranquility rather than the adventure drive vibe of Sabang. it is a convenient place to be, especially that you can always get into the action at Sabang anytime you want to.
This resort has recently been renovated and it now has new amenities like a new swimming pool, bar, restaurant and a lounge. The rooms have also been refitted and refurnished for the more modern liking.
For the Dive, the dive masters / instructors are will skilled and all experienced. These PADI dive instructors make a more fun driven experience. Puerto Galera of course offers a treat for its visitors – a unique experience that is. All diving spots are only 15 minutes away and all primed. All these trips, Island hopping activities are done on a daily basis so you can be sure that they know what they are doing. Courses are offered for all level of divers.
If you are interested, please do not hesitate to contact the resort owners and administrators.
Amenities and Special Attractions of  Blue Ribbon Dive Resort
Here are some of the facilities and amenities of Blue Ribbon Dive Resort:
Café and Restaurant ( Good Food! )
Beach Front
Hiking
Cottages, umbrellas
Air-conditioned Rooms
Packages and Special promos
Island Tours
WIFI access ( Fast Internet )
Swimming pool
24 hour Reception
No minimum stay
Housekeeping
Gym
All rooms have Safe
Luxury Accommodation
PHOTO Gallery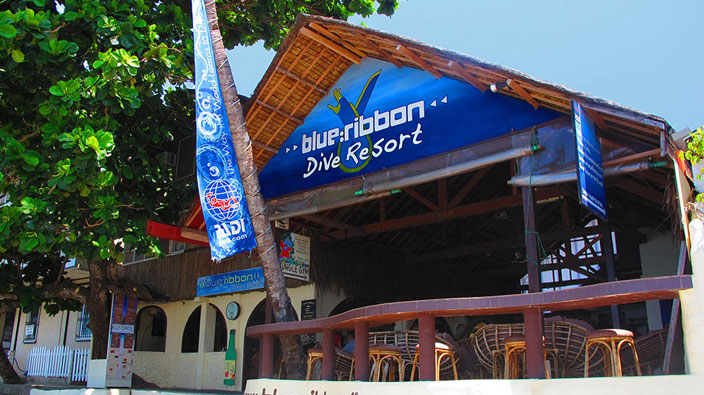 Blue Ribbon Dive Resort Rates
For an accurate information of rates, amenities and reservations, please contact the resort administrator. Please be advised that the figures below should be taken as guidelines. Rates can change without prior notice.
Entrance Fees:
Standard Rooms Rates:
Deluxe Room Rates:
Contact details and Address
Name of Resort: Blue Ribbon Dive Resort
Location Address: Small LaLaguna Beach, Walking trail to La Laguna beach, Puerto Galera, 5203
Contact Person:
Phone Numbers: +63 917 893 2719 | +63 (0)43 287 3561
Website: blueribbondivers.com
Email address: info@blueribbondivers.com
If you own Blue Ribbon Dive Resort, please add in details in the comment section. You can also contact our website www.PuertoGaleraBeachResorts.com should have any more information added to this post.
*The images and rates above are are from the blue ribbon website.